As part of the overall performance improvement process, the performance review plays an essential role since it provides managers with reliable and usable indicators on: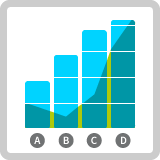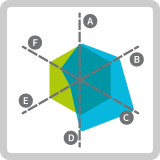 the achievement of the objectives
skill and performance levels
training needs
the mobility within your company
career evolution wishes of employees
a feedback on the perceived quality of trainings
The performance review makes it possible to work on the development of people, to analyze their results and to react in relation with the expectations of the company. It is thus a central tool to measure performance and support its evolution.
The advantages of EV@L
An indispensable tool
In Human Resources management, nothing gets triggered without a performance review. If conducted professionally and if it provides reliable and usable indicators, managers can act on many tools related to HR organization: remuneration, training, talent management, job definitions, etc.
A review with personalized indicators
The notion of performance differs from one company to another depending on various factors. Therefore, Synacom designs with you an interview model that fits to your reality and wishes by analyzing precisely the needs of your HR department.
An evolutive tool to manage Human Resources
With Ev@l, Synacom adapts the performance review to the needs and particularities of each company. Unlike generic systems of broad dimensions, which are long and expensive to set up, Ev@l is a specific tool in line with the real life of your company. Step by step, as the process evolves and when the performance review is well mastered, other elements related to HR management can be integrated: compensation management, direct and automatic link with the job descriptions, skills development, competency-based recruitment…
"With Ev@l in the heart of HR management, Synacom supports you in establishing the important changes of your company."
A tool integrated into your existing systems
Designed in SaaS mode, Ev@l fits perfectly with any global HR management system already existing in the company. It also absorbs all the information present in these global systems: no repetition of information or double entry!